Home »
What is an Accumulator Bet?
What is an Accumulator Bet?
For many people, a weekend is not a weekend unless they get a chance to place an accumulator bet or two. Whether by heading out to a high street bookie, placing a bet online from the comfort of your own home or getting a bet on wherever you are via your mobile, accumulator bets are a surefire way to add some excitement to your day and potentially a great deal of profit to your betting balance.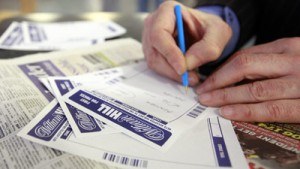 Accumulators (also commonly known as accas) are so exciting because they offer you the chance to win big from small stakes. Rather than having to root through hundreds of events for a big price in one market, accumulators allow you to multiply your odds by betting on more than one outcome. There's a bigger risk for sure but the payouts from just pennies can be much bigger if an accumulator lands, just ask this lucky punter.
Accas also give you an opportunity to make the most of your sporting knowledge. It's always great when you do your research and find a winner on the horses or work out where the goals are going to be scored in the Premier League fixtures. But how much better would it be to work out winners on multiple races or matches and be paid accordingly?
There's no doubt that accumulators have grown significantly in popularity over the years. But the way they work can be a little confusing for some. So, we've taken a closer look at accas to give you the knowledge required to help you beat the bookies.
What is an Accumulator Bet?
Simply put, an accumulator bet is a combination of four or more selections into one single bet. Bets with two or three combined selections are also technically accumulators but these are known as doubles and trebles respectively.
Whatever the terminology used, the key point is that accumulators are comprised of multiple selections. The odds of each selection are multiplied so you end up with a bigger win than if you were to back them as single bets.
The naming of accumulators follows a simple pattern. If it's got four selections, it's called a four-fold acca, if it's got five selections, it's a five-fold and so on. Whether you place a double or a 10-fold accumulator, the bet will fall if just one of your selections fails to win.
Let's say you've backed four draws in the Premier League over the weekend. Anything other than four draws is a loss but call those four draws correctly and you'll be due a handsome win.
Clearly, the more selections (or legs) that you include into an accumulator, the more risk you are taking on. The chances of picking seven horses to win in a day are obviously much slimmer than just backing the one, but it has been done.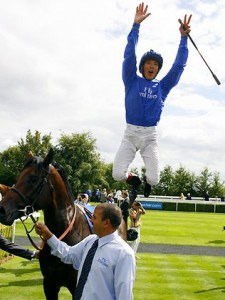 The payoff for that risk is the winnings. The greater the risk you take, the more you stand to win. However, blindly adding bets to an accumulator is not an advisable path to making money from the bookmakers. You need to understand how they work to avoid the pitfalls and give yourself the best chance of winning.
Let's have a look at how the odds work when you place accumulator bets.
How do Accumulators Work?
If you place a single bet of £10 at odds of evens (that's fractional odds of 1/1 and decimal odds of 2.0) you will get a total of £20 returned to you – your £10 stake and your winnings of a further £10.
If, however, you were to take your £10 and place it on a fourfold accumulator where all four selections were priced at evens you would have £160 returned to you, the £10 stake and £150 of lovely profit.
Let's use an example using real Premier League fixtures to show how the maths of accumulator betting works. We're going to stake £10 on a four-fold accumulator with bet365 on the following outcomes:
Hull to beat West Brom at 2/1
Leicester and Middlesbrough to draw at 13/5
Swansea to beat Crystal Palace at 7/5
Chelsea to beat Tottenham at 8/11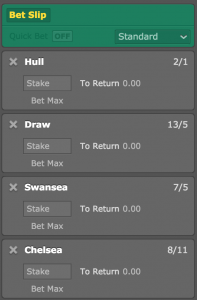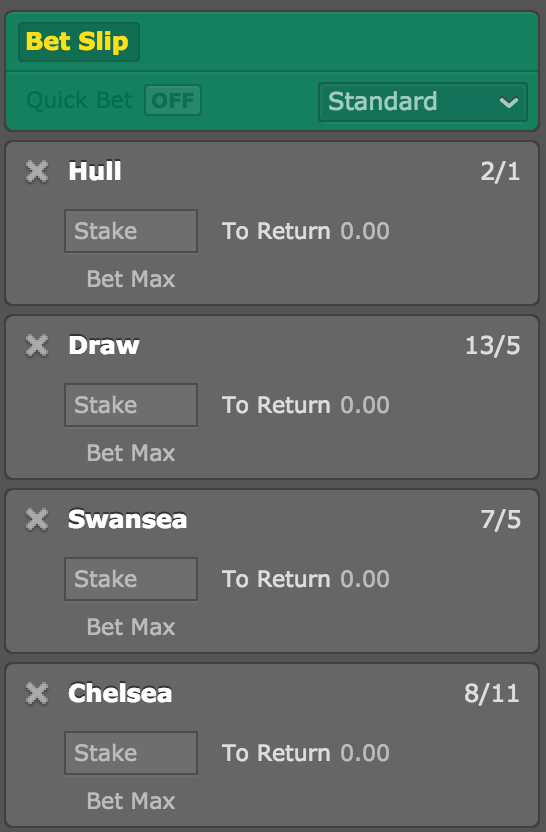 If all of those results come in, we stand to win a total profit of £437.71 as our stake of £10 gets multiplied with each selection that wins.
Here's how that looks, broken down leg by leg:
| Selection | Stake | Decimal Odds | Fractional Odds | Amount Returned |
| --- | --- | --- | --- | --- |
| Hull to beat West Brom | £10 | 2/1 | 3.0 | £30 |
| Leicester and Middlesbrough to draw | £30 | 13/5 | 3.6 | £108 |
| Swansea to beat Crystal Palace | £108 | 7/5 | 2.4 | £259.20 |
| Chelsea to beat Tottenham | £259.20 | 8/11 | 1.73 | £447.17 |
You can plainly see how your initial, fairly humble stake, can be turned into something special with accumulator bets if all your selections win. The catch, however, is that every time you add a leg to your accumulator you are adding another potential loser so confidence in your selections is key.
Non Runners
While it only takes a single loss to down an accumulator bet, the bookmakers have very fair rules should one of the legs be cancelled for some reason.
Let's say in our example above that Chelsea's game against Tottenham has to be called off due to a heavy storm in the West London area. Don't fret. That does not mean that your accumulator will lose, nor does it mean that the whole bet will be cancelled.
If a leg is ruled as a non runner it is simply made void with the bookies. That means your accumulator will stand but the odds are reduced accordingly. So, if the Chelsea game is a washout but the other three bets all win you will be left with a total payout of £259.20 – as if you had placed a treble.
Which Markets Work Well with Accumulator Bets?
As we've seen, accumulators are a great way of winning big at the bookies but they certainly lend themselves better to some sports and betting markets than others.
Take golf for an example. Each week the bookies will offer odds on anywhere between two and five golf tournaments. That's a pretty limited amount of choice if you're trying to create an accumulator and you'll have to wait days to win. Moreover, golf tournaments are very hard to predict. You can win big from a single golf bet but calling the winner of multiple events correctly is difficult and extremely rare.
That is not to say that golf is completely unsuited to accas. You can have plenty of success by combining the winner of multiple golf match bets in a tournament and you'll only have to wait until the end of the round to find out if your accumulator wins.
In terms of popularity, football and horse racing offer the most appeal for punters looking to place accumulators. In both sports there are a lot of events taking place each day, the odds available are often very good in relation to how difficult it is to predict the outcomes. You can sit back and watch the results come in with the excitement building as you get closer to landing a win. There are few bigger thrills in punting than landing the last winner of a racing accumulator or having a last minute goal take you from losing to profit in a second.
If you follow multiple sports it is possible to capitalise on your varied knowledge with multi-sport accumulators. That's because the best online bookmakers will allow you to combine selections from different sports into one acca. So, you could back a football team, a rugby team, a horse and a snooker player all to win on the same day for a healthy profit. This sort of flexibility and choice is a big reason for the popularity of accumulator bets.
Things to Keep in Mind
When you build an accumulator on a bookies' site, you'll see the odds increase with each selection. It can be incredibly tempting to keep adding selections to your bet as you look to win as much as possible. However, a word of caution is due.
Of course everybody wants to win big from an accumulator but simply adding selections for the sake of it is likely to cost you. It's better to win less from an acca that you are confident about than to blow your winnings completely by including bets you're unsure about. There are plenty of stories of punters having their fingers burnt and narrowly missing out on big win.
You can also be clever with your accumulators. One way of doing this is by including each way bets in them. These go in as two bets, one on the win portion and one on the place portion. If the selection wins, both bets will count towards your acca winnings. If it doesn't win but places, only the place bet will count. Finally, if it doesn't even place, your accumulator as a whole will lose.
For your football accas you can also add bets from the draw no bet market for more insurance. If the team you have backed loses so will your accumulator but if they draw, the bet will be made void and the rest of the accumulator will be unaffected.
Final Word
So there you have it. Accumulator bets are a great weapon in your armoury as you battle the bookies. Using a little knowledge and tact can see you winning big from a small stake – the dream of all punters!