Home »
Ladbrokes go Everton 8/1, Liverpool 6/1 enhanced odds in Merseyside Derby
Ladbrokes go Everton 8/1, Liverpool 6/1 enhanced odds in Merseyside Derby
5th February 2015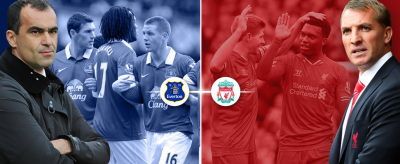 Ladbrokes have announced another excellent enhanced odds offer for the weekend, this time in the Merseyside Derby where Everton face Liverpool at Goodison Park.
Ladbrokes are offering Everton at a massive 8/1, enhanced from an original price of 2/1.  They are also offering Liverpool at a HUGE 6/1, enhanced from 13/10.  So you can see these prices are really big enhacements on the original odds.  Click the voucher below to get the code and open the offer.

Used 982 times
Everton v Liverpool HUGE odds
Get Everton at 8/1 or Liverpool at 6/1, when you use this special odds enhancement at Ladbrokes online.
Ends: 08/02/2015
0 day left
How to claim the Ladbrokes Everton vs Liverpool Enhanced Odds
Click the coupon above to get the code for the Everton vs Liverpool enhanced odds offer.
The offer sign up page will also open in a new browser tab.
Sign up for an account on the registration page, entering the code from the coupon above.
Go to the outright match betting market for Everton vs Liverpool and place £10 on either Liverpool or Everton.  The odds will show as the original prices (i.e. 2/1 Everton or 11/10 Liverpool) but you will get paid out at enhanced odds if your selection wins.
If Everton win, you will be paid out at odds of 8/1, so for a tenner you will make £80 profit and receive £90 back into your account.
If Liverpool win, you'll be paid out at 6/1, so again for a £10 bet you will receive a £60 profit and get a total of £70 with your stake back.
The offer goes live at 9am on Friday 6th February 2015 and runs until kick off for the match at 5.30pm on Saturday 7th February.
The match is being televised live on Sky Sports 1HD in the UK and is sure to attract a massive audience in homes and pubs around the country.  Ladbrokes are doing some good enhancements recently and this one looks like another cracker for new customers.
Liverpool come into the game in good form with 4 wins in their last 5 in the Premier League and got through to the FA Cup 5th Round against Bolton on Wednesday after a really tricky tie.  Liverpool endured a really bad spell late last year but seem to have recovered their form since adopting a 3-5-2 with Emre Can at the back.
The return of key striker Daniel Sturridge from injury is also a huge boost and he has already looked really sharp in his comeback matches, with a goal against West Ham and an impressive impact against Bolton, both from the bench.  It is probable that he will now start the match against Everton after those two sub appearances which should have sharpened him up further.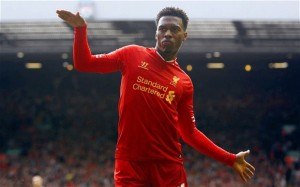 Everton have been struggling for form recently, with the fans starting to lose faith with the Roberto Martinez regime after such a brilliant season last year.  The patient build up and passing, almost Spanish style approach worked wonders last season, but teams seem to have sussed Everton out a bit this year and that combined with a few ageing players not quite performing like they did last year has left Everton looking nervously behind them at the relegation battle.  Players like Distin, Barry and even Tim Howard in goal have looked like they are starting to show their age.
Things did take a slight upturn last week with a 1-0 win over Crystal Palace away, who were in good form themselves so it was definitely a positive and timely win.  Liverpool still look firm favourites for the game though even if the game is at Goodison Park and 6/1 looks very big for them.  Our recommendation would be to take that 6/1 on Liverpool winning, but if you fancy Everton to come back from their recent form and win this game then 8/1 is another massive price.