Home »
Mayweather vs Pacquiao Betting Tips and Offers
Mayweather vs Pacquiao Betting Tips and Offers
3rd April 2015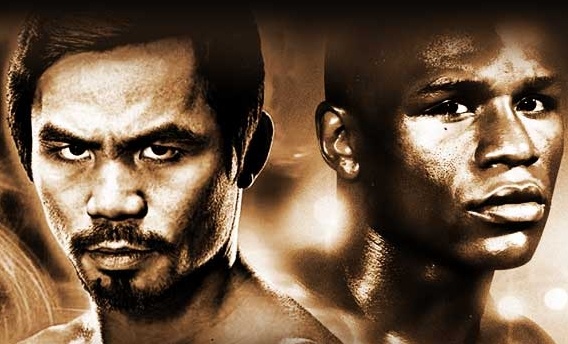 It's finally happening, the biggest fight for probably the last 10 years, Floyd Mayweather Jnr against Manny 'Pacman' Pacquiao.  On May 2nd we will finally get the answer to the question we've all been asking for the last 5-6 years, who is the best pound for pound fighter in the world?
This fight pits the pure boxing skills of Mayweather against the pure fighting skills of Pacman and it promises to be a very interesting battle as both men will seek to make sure the fight goes to the style they want it to.  It's basically a clash of 2 styles and whoever can impose their style onto the fight should win.
In this respect it reminds me a little of Hatton versus Mayweather.  The referee that night didn't allow Hatton to impose his close fighting style onto Mayweather, constantly calling break when Hatton got close and not allowing him to get his body punching off.  This played into Mayweather's hands, as Mayweather wanted to keep it at range against the shorter Hatton and was allowed to do so all night until Hatton ran out of steam and walked onto a knockout hook from Floyd.
Interestingly, Hatton is the last opponent that Mayweather has knocked out, when you discount his win aganst Victor Ortiz which came as Mayweather landed a 'sucker punch' on ortiz who had stopped fighting when a break appeared to have been called.
Hatton is also a common opponent of both men, as Pacquiao comprehensively flattened the Manchester boxer in 2 rounds back in May 2009, 6 years ago now!  Back then Manny was firing at his best and arguably at his peak, if the fight had been made then, many would have predicted an on fire Pacman to walk through Mayweather and claim the P4P top spot.  For whatever reason, the fight didn't happen back then, with contractual wranglings and maybe an over-riding feeling that Floyd was avoiding Manny at his peak.
With both fighters now approaching the end of their careers, with Floyd now aged 38 and Manny now aged 36 it is basically a battle of who has worn the best.  In that case it is probably better to favour Mayweather, who is the pure boxer and has taken a lot less punishment – throughout his career he has been notoriously hard to hit and has come out of many high profile scraps with barely a mark on him.
Contrast that with Pacman, who has had a number of wars early in his career and has a 'fighter' style of boxing that sees him often trading blows with opponents and walking through their punches to get his own off.  Pacquiao is a fast fighter and a ferocious one too, probably the toughest opponent Mayweather has taken on in years so it's going to be close either way, but I just slightly favour Mayweather as he may just be a little less shopworn.
Mayweather vs Pacquiao Outright Odds
Mayweather 1/2 (Ladbrokes and Coral)
Pacquiao 2/1 (Skybet)
Draw 22/1 (Betfred)
The bookies are favouring Mayweather at 1/2 with Ladbrokes/Coral and offer Pacquiao at quite big odds of 2/1.  So you can see this is not seen as any sort of 50/50 shootout, Mayweather seems to enjoy fighting shorter fighters like Manny where he can use his skills to keep the fight at range and pick off his opponent with potshots.  I expect this to be a classic Mayweather performance, using that slick defence and fast footwork to stay out of range from Manny's power shots.
I can't see Floyd doing any significant damage to Manny, so the chances are this will be a Mayweather points win or a Manny stoppage win, i can only see one of those two outcomes being possible.  the only way Manny wins is if he can walk through what Floyd has to offer and basically maul Mayweather with barrages of punches hoping that a big one lands.
This is not to disrespect Manny as a boxer, I just feel that Mayweather is so slick and hard to hit that it will need a gung ho approach to have a chance of landing a big bomb and get him wobbling.  Mayweather has looked more vulnerable in recent fights, for example the first Maidana fight where he looked troubled by Maidana's come forward style and certainly Floyd seemed easier to hit than ever before, so this does give Manny a chance.
Method of Victory Betting
Mayweather by Decision/Tech Dec 8/11 (Ladbrokes, Boylesports)
Pacquiao by KO/TKO 11/2 (Coral, Paddy Power)
Pacquiao by Decision/TD 11/2 (Betfair)
Mayweather by KO/TKO 7/1 (Bet365, Coral, Sky Bet)
Mayweather on points is the clear favourite here for the bookies but that 11/2 for a Manny knockout also looks tempting if you do fancy that Floyd has lost some of those reflexes.  The problem for Manny is that in the same way that Floyd has lost some of his reflexes, Manny has also lost some of his power and explosiveness over the years, so it's definitely a matchup of who's wearing the best.
I couldn't put anyone off taking the 8/11 at Ladbrokes or Boylesports that Mayweather wins on points.
So there we have it, the fight of the decade is here and you can take your pick, there are many more markets available on the fight at the Oddschecker site Mayweather vs Pacquiao odds page.