Home »
Boxing – Tyson Fury vs Deontay Wilder Betting Tips
Boxing – Tyson Fury vs Deontay Wilder Betting Tips
21st February 2020

Boxing can be a very cruel sport. Professional fighters put their lives on the line every time they enter the ring and at the top level, must dedicate a huge amount of time and effort ahead of every single fight. 
Those of us who merely watch on from the sidelines can only begin to imagine what it must be like to give so much to one cause only to have it unfairly ripped away from you. That is exactly what Tyson Fury had to go through in his fight against Deontay Wilder on 1 December 2018. 
Despite being knocked down twice by Wilder, Fury showed incredible heart not only to pick himself up off the canvas but to get right back into the fight. Indeed, by the time the fight for the WBC heavyweight title was over, most people watching on believed that the Fury had done enough to win. That was confirmed by the volume of boos inside the Staples Centre that greeted the judges' decision that the fight was a draw.
Both men have subsequently claimed that they did enough to win the fight. They've also claimed that the ability they showed that night against top quality opposition proves that they are the best heavyweight in the world. Anthony Joshua would have a lot to say about that but many of the unanswered questions and debates from that first fight are about to be answered, potentially in emphatic style, when Fury and Wilder face off again in Las Vegas.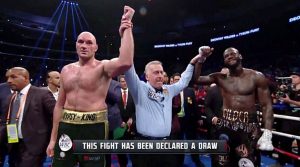 Fury vs Wilder Winner Market
Deontay Wilder Evens (Paddy Power)
Tyson Fury 21/20 (888Sport)
The Draw 25/1 (William Hill)
Ask any boxing expert what they think about this fight and they are sure to tell you that it is very difficult to call. Indeed, many bookmakers simply cannot split these two in the betting. Both men have strong claims that they should have won the first fight and, no matter what levels of bravado they've shown in the pre-fight media circus, both will be wary about the threat posed by the other.
For Fury, the big threat is Wilder's power. Yes, the American was unable to land the knockout blow in the first fight but the fact he was able to knock Fury down twice is a real cause for concern for the British boxer.
On the other hand, Wilder knows that the longer he goes without being able to land one of his devastating punches, the tougher his chances are of winning. Fury is undoubtedly a better boxer from a technical point of view and the furore that followed the last fight will surely play on the minds of the judges. 
This promises to be a fascinating fight but Fury's chin, ability to get out of trouble and sheer unpredictability makes him the man to back at 21/20 with 888Sport.
Method of Victory Market
Wilder by KO, TKO or Disqualification 6/5 (Coral)
Fury by Decision or Technical Decision 7/4 (Ladbrokes)
Fury by KO, TKO or Disqualification 5/1 (Unibet)
Wilder by Decision or Technical Decision 12/1 (William Hill)
Draw or Technical Draw 25/1 (Ladbrokes)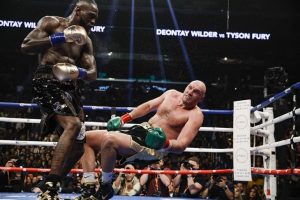 The Method of Victory market makes it clear what many good judges have had to say about this fight – Wilder's best chance of winning is by landing a knockout blow whilst Fury's best chance is by going the distance. 
There are some who will sniff an opportunity here. Fury is not exactly short on power and he's been making a lot of noise about Wilder's supposedly weak chin. The challenger is also very adept at creating space for himself to land a big punch and he's made it clear that he believes he has every chance of knocking Wilder out.
The longer the fight goes on though, the less likely a Fury knockout becomes. He certainly has what it takes to extend the fight well into the latter stages and from there we like his chances of winning via decision at 7/4 with Ladbrokes.
Round Betting Market
Fury on Points @ 7/4 (Betfred)
Wilder on Points @ 12/1 (William Hill)
Wilder in Round 8 @ 18/1 (Betfred)
Wilder in Round 7 @ 18/1 (William Hill)
Wilder in Round 9 @ 20/1 (Betfred)
Wilder in Round 6 @ 20/1 (William Hill)
Wilder in Round 5 @ 20/1 (William Hill)
Wilder in Round 4 @ 20/1 (bet365)
If you do fancy Wilder to win or just want to have a saver in case his prodigious power proves too much for Fury, it could well pay to head to the Round Betting market. The 18/1 that Betfred are quoting on Wilder winning in Round 8 is tempting as by that point in the fight he should still have enough firepower in the tank whereas Fury's movement and ability to duck and weave will inevitably be lessened. 
Betting Recommendations
Tyson Fury to Win at 21/20 with 888Sport
Fury on Points at 7/4 with Ladbrokes