Home »
Boxing – Josh Warrington vs Kiko Martinez Betting Tips
Boxing – Josh Warrington vs Kiko Martinez Betting Tips
24th March 2022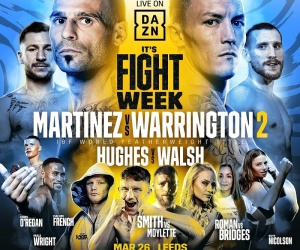 Carl Frampton is not everybody's favourite boxer but you can't fault his honesty. The Northern Irishman is open when he makes mistakes that cost him fights and admitted after his loss to Josh Warrington in 2018 that he did not take his preparation as seriously as he should have and underestimated his opponent. The reason for his overconfidence was that he watched Warrington struggle against Kiko Martinez, a boxer who Frampton beat twice – once by knockout and once by unanimous decision.
By the time Warrington fought Frampton in 2018 he was a better, smarter boxer than when edging past Martinez. He is an even better fighter ahead of their second meeting in Leeds on Saturday night.
Taking about the fight, Frampton said that while Martinez can be a brutal fighter at his best, he does not believe that Warrington will be at all complacent. The bookies' odds suggest that it is only complacency which stand in the way of Warrington beating Martinez for a second time and it really is hard to look past a win for the Englishman in front of a partisan and vocal crowd.
As if the crowd needed any more whipping up, Warrington will be joined by Leeds defender Luke Ayling as he walks to the ring. It won't always be pleasant viewing for Ayling and the other Warrington fans in the First Direct Arena but it would be a shock were they not to be celebrating come the end of the fight.
Warrington vs Martinez Winner Market
Josh Warrington 2/7 (Coral)
Martinez 11/4 (bet365)
Draw 20/1 (Paddy Power)
(Please note that all odds are correct at time of article publishing)
Age is a funny thing in boxing. While there is no substitute for experience we have seen countless fighters go on well past their prime in this sport and put themselves in danger when they climb into the ring. At 36, time is catching up with Kiko Martinez but as the IBF World Featherweight champion it is clear that he is not over the hill just yet.
Five years Martinez's junior, 31-year-old Warrington should be in the prime of his career. His record doesn't exactly paint that picture as his first loss as a professional occurred against his most recent opponent, Mauricio Lara. Lara is a top class talent though and Warrington believed that he had a good chance of exacting revenge on the Mexican when they met at Headingley in September only for the fight to be declared a draw after an accidental clash of heads.
Being denied revenge in such a disappointing manner has only added fuel to Warrington's fire. Every boxing fan knows that Martinez is one of the most powerful punchers in the featherweight division but Warrington is an incredibly skilled and hardy fighter. The home favourite can roll with the punches and become a world champion once again by beating Martinez at odds of 2/7 with Coral.
Method of Victory Market
Warrington by Decision or Technical Decision 8/11 (bet365) 
Warrington by KO, TKO or Disqualification 11/4 (Paddy Power)
Martinez by KO, TKO or Disqualification 16/5 (Paddy Power)
Draw or Technical Draw 20/1 (Ladbrokes)
Martinez by Decision or Technical Decision 25/1 (bet365)
Once again, the odds paint a picture of a tough night ahead for Martinez. 
His best route to victory appears to be utilising his power to soften Warrington up before landing a big knockout blow. Even that appears unlikely at best odds of 16/5 with Paddy Power and it really does look a case of backing the favourite selection in the Method of Victory Market.
Warrington has the class, the experience and the stamina to control the majority of this fight. He'll have few concerns about being on the wrong end of yet another poor decision from British judges given the volume of punches he throws and his home advantage so back Warrington to win by decision at 8/11 with bet365.
Round Betting Market
Draw @ 20/1 (Paddy Power)
Warrington in Round 8 @ 22/1 (bet365)
Warrington in Round 9 @ 25/1 (Betfred)
Warrington in Round 7 @ 25/1 (Betfred)
Warrington in Round 6 @ 25/1 (bet365)
Warrington in Round 10 @ 25/1 (Paddy Power)
Martinez in Round 8 @ 33/1 (Betfred)
Martinez in Round 9 @ 33/1 (Betfred)
The best way to use the options and potential value provided to you by the Round Betting market is as a saver should the fight have a dramatic conclusion. 
We are happy to recommend backing Warrington to win the fight on points but neither man will hold back should they sense a chance to force a stoppage. It is highly unlikely that opportunity will present itself in the early stages of the fight so if you are having a bet in this market take up one of the later rounds.
Warrington would be sick as a pig were another big fight to end in a draw at 20/1 (Paddy Power) and we don't expect that but the same firm are offering 25/1 that Warrington stops the fight in Round 10. That is a price worth considering for small stakes as he could be well in control on the judges scorecards by then, forcing Martinez to come out on the offensive and thus opening up a chance for Warrington to strike on the counter.
Betting Recommendations
Josh Warrington to win by decision or technical decision at 8/11 with bet365